About Us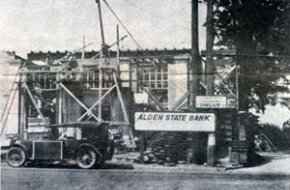 Your hometown bank since 1916, Alden State Bank is committed to providing innovative, state-of-the-art banking products and services with a neighborly approach to customer service. Our customers are you: people and small businesses in Alden, Lancaster, and the surrounding communities.
By keeping our focus local, we are able to keep the good of the community central to our mission. We lend locally to promote growth locally, and we take great pride in our community involvement initiatives. We hope that you're proud of your hometown bank, and we thank the community for its continued support, fast approaching 100 years!
History
The Alden State Bank opened for business on October 5, 1916, in rented quarters in the building at 13205 Broadway, at the corner of Exchange Street. The establishment of the bank was the result of several local people who felt the need for a financial institution that would meet the needs of a growing Alden community. At this time, commerce was surging forward, largely due to business generated by the Black Water Baths.
As Alden grew, the bank grew as well, and in 1924, a new building was built. That building, now the office of the Alden Advertiser at 13200 Broadway, seemed spacious at the time when there was one active officer and three employees.
Eventually, along with continued community growth, came the need for still more space. In 1963, all of the bank's operations were moved to a new building at 13216 Broadway. A drive-thru teller and more teller stations were added. Growth continued, and much needed expansion came in 1992, adding 6,000 square feet onto the existing building.
In 1994, in order to serve the banking needs of neighboring communities, a new branch office was built in Lancaster at 5802 Broadway, near Bowen Road.
Assets have grown from $78,000 in 1916 to over $270 million at the end of 2014. This success can be attributed to sound management and financial practices and to the loyalty of its customers. We continue to adhere to our guiding principles, paving the road to continued success as your hometown bank.