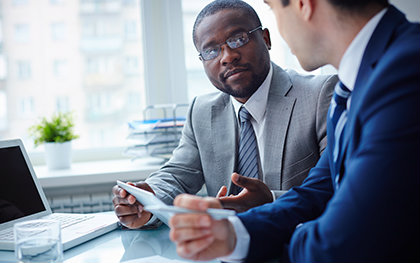 Business Security
Individuals are not the only victims of identity theft. Hackers, in some instances backed by international criminal organizations, have targeted small and medium businesses to obtain access to their online banking credentials or to remotely take over their computers. These hackers then drain the deposit accounts and lines of credit of such businesses and very quickly funnel the money through mules and into oversees accounts belonging to the hackers.
Steps you can take
In addition to the security measures we have taken, we recommend that you take the following steps to further protect your business information and accounts online:
1. Use a dedicated computer for financial transaction activity, and do not use the same computer for web browsing and email.
2. Install operating system and application updates (patches) regularly.
3. Install anti-virus/spyware software and ensure that it is updated with the most current version.
4. Install host-based firewall software installed on your computer.
5. Use the latest versions of Internet browsers with "pop-up" blockers and keep patches up to date.
6. Turn off your computer when not in use.
7. Review your accounts and banking transactions on a daily basis, and notify us immediately if you see any unauthorized transactions on your account.
8. Review your credit report regularly.
9. Periodically perform a risk assessment and control evaluation of your internet banking activity. The New York Department of Financial Services has partnered with the Global Cyber Alliance to provide a Cybersecurity Toolkit for Small Business that can help with this process, https://gcatoolkit.org/smallbusiness/ , as well as a set of sample cybersecurity policies based on cybersecurity best practices, https://www.dfs.ny.gov/consumers/small_businesses#cybersecurity-tools.
If you feel your online credentials have been compromised contact us immediately by telephone at 716-937-3381.