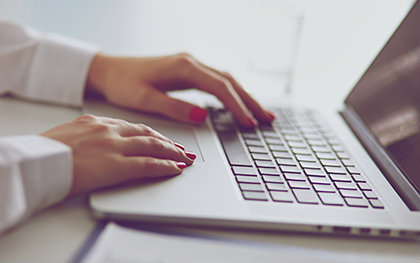 Online Banking & Bill Pay
Forget about juggling your schedule to accommodate bank hours or trekking out to a branch. With online banking and bill pay, you can bank on your time wherever there's internet access.
Manage accounts, transfer funds, set up recurring bill payments, and more — 24/7. And you can do it all from your sofa or the office, without spending a dime.
Summary
Free, secure, and easy-to-use service for Alden State Bank customers
Manage a number of banking activities anytime, anywhere with internet access:

Access eStatements
View account balances and history
Transfer funds between accounts (one-time and recurring transfers)
View checks written
And more!

Pay one-time or recurring bills with ease:

Schedule payments in advance
Set up payment reminders
Ensure payments are received on time
Have all payee information in one convenient place
Retain funds until paper drafts are presented for payment
Avoid paper clutter
More secure than paper billing

Send money to anyone with Zelle®
Make more time for yourself; fewer bank trips necessary
Print or download to popular financial management software
Transfer funds to external accounts with External Transfer.
Utilize Notifi for real-time alerting and notifications.
Enroll now in online banking!
FAQs
Find answers to your online banking questions right here! Don't see your question? Contact us anytime.
What accounts are accessible online?
Almost any account held at the bank is viewable online.
Individual Retirement Accounts
What type of accounts can I transfer funds to and from?
You can transfer money between any of your checking or savings accounts except for your passbook savings accounts. You will still be able to view your passbook savings balance online.
When will my funds be transferred?
All transfers initiated before 4:00 pm Eastern Standard Time will be made when entered. Any transfer initiated after 4:00 pm Eastern Standard Time will be made on the next business day.
When I make a transfer, what assurance do I have that the transfer has occurred and how can I identify my transaction to the bank?
When you make a transfer of funds, you will receive a confirmation number. This number is proof that the transaction has taken place. The confirmation number is also used by the bank in resolving any problem with the payment or transfer that may occur. Please record the confirmation number in your check register or print the confirmation screen in case you need to verify the payment at a later date.
What web browsers are able to use the Alden State Bank Online Banking System?
For Windows 8, Windows 7, Windows Vista, Windows XP
Microsoft Internet Explorer version 9.0 or higher - For the latest version of Microsoft Internet Explorer visit: IE Download
Mozilla Firefox version 4.0 or higher - For the latest version of Mozilla Firefox visit: Firefox Download
Opera
Google Chrome
For Mac OS X operating systems:
Apple Safari version 4.0 or higher
Mozilla Firefox
Opera
What level of security is required?
In order to insure that the exchange of information over the internet is kept secure and confidential, special encryption (coding of the information), and decryption (decoding of the information) is necessary. Web browsers utilize this encryption methodology and allow varying degrees, or levels, of security to be used. The Alden State Bank Online Banking System uses the Norton Secured Digital Certificate to verify its web authentication and identity for secure e-commerce and communications over the internet.
We require that browsers use 128-bit encryption to exchange information. This is the highest level of online security available and it poses the least risk for external violation.
To check if you have 128-bit encryption enabled visit: Fotify SSL Check.
Do I need any other software for online banking to work?
Adobe Flash Player is needed to access our system. Adobe Flash Player can be downloaded here.
One of the features of the Alden State Bank Online Banking System is the ability to retrieve checking or savings statements and view them on the computer screen. In order to view these statements, your personal computer needs to have Adobe Acrobat Reader (version 9.0 or greater) installed.
This software is free of charge and can be downloaded from the internet here.
How to Setup Android Device with Flash Player:
1. Make sure your Android device is connected to the Internet.
2. Open the Settings menu.
3. Select Security (or Applications, on older Android OS).
4. Place a check mark next to the "Unknown sources" check box.
5. Tap OK to confirm your selection.
6. Close Settings.
7. Launch the browser.
8. Search for "flash player archive page" or navigate directly to this page
9. On the Archive page, scroll down to "Flash Player for Android archives"
10. Select a version of Flash Player that is compatible with your Android operating system.
11. Tap the link to download the Flash Player installer. Download begins automatically.
12. When download completes, close the browser.
13. Open Notifications.
14. Tap "install_flash_player.apk"
15. When prompted, tap Install.
16. When installation is finished, tap Done.
Here is a walk through for the instructions above on youtube.com: Setting Up Online Banking
How do I enroll to use the Alden State Bank Online Banking System?
Click on the "Online Banking" menu item or button from the home menu at this website, click on the "Enroll Now" button. Complete the information required and click the submit button. You will be required to choose a new User/Access ID and a new password for use with the online banking service during enrollment. You will also be required to setup enhanced verification challenge questions. You should keep your User/Access ID and your password confidential and in a secure location separate from the computer, related equipment and software you use for the online banking service.
Can I view my current savings and checking statements in the Alden State Bank Online Banking System?
Yes. The system will show the current activity on your account since your last statement. The system will also show the previous 18 months of statements for your accounts. You can display archived statements on your screen and even print them on your home printer. For archived statements, first click on the account and then choose "Documents."
Can I view a copy of a check I wrote?
Yes. On the "Transactions" tab, click on current statement. Click on the check number you would like to view. You can also print a copy of the check. To view the back of the check, click once on the face of the check.
Can I view and print a canceled check from a previous statement?
Yes. You can view and print your canceled checks from previous statements for up to one year. From your account, select "Transactions," then "Transactions Menu." In the lower right-hand corner, under "Image Search," type in the check number of the check you wish to view and click "Display."
What number can I call for online banking support?
You can call 716-937-3381 or email [email protected].
What does it cost to use the Alden State Bank Online Bill Payment System?
For consumer accounts, this service is FREE. For business accounts, the first 30 days after you register, you can use the bill payment feature for free. After the first 30 days, you will be charged $4.95 per calendar month. The monthly fee will be charged to your account on the last calendar day of each month.
Do I need to register to use the Alden State Bank Online Bill Payment System?
Yes. When you enroll for online banking, you can also choose to activate bill payments with your online banking account. If you are already enrolled in online banking, but don't have bill payments, please contact us at 716-937-3381 and ask us to activate bills payments for you.
Can I use my savings account at the Alden State Bank for bill payment?
No. Savings accounts cannot be directly used to pay bills; a checking or NOW account is required. However, you can transfer money from a savings account to a checking account prior to submitting your bill payment request during the same online session.
Can I make future bill payments using the Alden State Bank Online Bill Payment System?
Yes. You can schedule bill payments up to one year in advance. You indicate if a bill is to be paid immediately or on a future effective date.
How soon are funds actually taken out of my account?
Your account will be debited the date that payee receives your payment.
What if there is not enough money in my account on the date a payment is to be made?
The bill payment system will look for funds two times (two business days including the payment date) in order to pay your bill. After the second business day no further attempts will be made to pay the bill.
How much time do I have to cancel a bill payment?
You can cancel any bill payment up to 3:00 pm on the payment date it is to be paid.
Who can I pay with my Alden State Bank online bill payment?
You can make a payment to almost any individual or business that presents you with an invoice for a service or purchase. You cannot pay bills online to government entities, for court directed payments such as alimony and child support, or to payees located outside of the United States.
Should I make the payment date the same as the due date on the invoice?
No. You should allow 5-7 business days for the payment to be sent and processed. An attempt will first be made to pay the bill electronically; if this is not possible then a manual check will be created for you and sent to the payee using the normal mail system.
What if the payee has not posted my payment?
You should allow (7) business days for a payee to receive your payment. If your payment has not been posted within (7) business days after your scheduled payment date, you may send us a request to verify that the online bill payment was made. Click on "Contact Us" on our home page to send us an email with your request. We will research your payment and get back to you within one business day.
What if I no longer wish to use the bill payment option?
You may cancel the service at any time by contacting us by mail, telephone, email or in person. You must have available the account number of the account to which bill payment is tied. If you are a business account customer and have used the bill payment option during the calendar month we receive your request to cancel, you will be billed a final charge of $4.95 for that month. We may require written confirmation of your authority to cancel the bill payment service.
How do I make a bill payment?
Using the Alden State Bank Online Banking System, highlight and click with your mouse, the checking account number that was selected to be used for your online bill payment. Click on the "Payments" button and a separate window will launch, taking you the bill pay site.
What is the Alden State Bank's routing or ABA number?
022309611
Get Access To Your Accounts At Your Fingertips